VirtuoZ was made by EPSA in 2011. It won several awards at the SIA Trophy, that includes: the innovation, safety and communication awards. Afterwards, the car was modified so that it could take part in the Monte Carlo rally racing. The weight and fiability of the car were optimized. As a consequence, VirtuoZ won the "Driver Performance" award of the Monte Carlo rally racing 2013.
General data sheet

Name: VirtuoZ

Code name: TIZY'2011
Year of making: 2011
Type: Two-seater car

Motorisation: Parallel hybrid (thermical (fuel) - electric)
Hybridation architecture: FERT (Front Electrical Rear Thermical)

Overall width: 1800 mm
Overall length: 4300 mm
Height: 1100 mm

Weight: 814 kg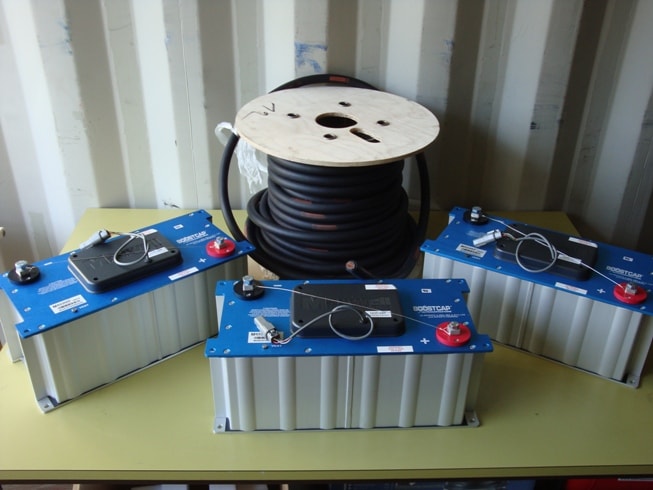 Super-condensateurs et câble électrique haute puissance
Motorisation and energy storage
4 driving wheels (front wheels : electric engine, rear wheels : thermical engine)
Thermical motorisation: Citroën C1/Peugeot 107 engine (68 hp fuel)
Gearbox : Renault R21
Gasoline tank : 10L tank

Electric motorisation : 2 Lynch LEM200-D135RAG engines (direct current engine - 2 x 22 hp)

Electric energy storage : 4 super-capacitors Maxwell (total electric energy on board : 760 kJ)
Kinetic energy retrieval system while braking
Frame and ground liaison
Tubular frame welded

Type : 3 cells (Front - Rear - Cabin)
Materials : Circular tubes made of steel and aluminium plates

Separated trains with double triangulation
Hub seats "home-made"
Shock-absorber : tipper triangles at the front and rear

Ground clearance : 10 cm
Tyres : Michelin Energy Saver
Car body
Type : Peugeot RC Cup
Material : Fibreglass